First UMC is using the Church Community Builder (CCB) platform to help foster better communication and interaction with people interested in our church and within our faith family. We are calling the CCB platform
myFirst
and are excited to invite our members to join
myFirst
!
myFirst
replaces the old system (AccessACS and the Church Life app) and we hope that this page will help you better understand and connect via CCB. If you have any questions or comments, please contact Larry Resch at
larry@fumcgnv.org
or via the contact form below.
In order to access
myFirst
, you will need to first request login credentials at the
myFirst login page
. Simply click on the Request Account link below the blue login button (as shown in the graphic) and provide the requested information. (Your name and email address is required. Your mobile phone number is optional.) We will send you an email with a link to login and reset your password.
Once you have reset your password, simply type in your user name (e.g., your email address) and your password to access
myFirst
.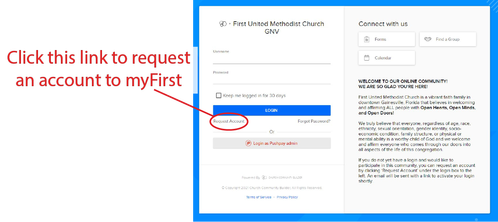 Once you have logged in, you can quickly and easily find other members of the First UMC faith family along with many other ways to be in community!
Some things you can do with
myFirst
:
Send an email message to others in your church groups and replies are returned to your email address

View the church-wide calendar and calendars for your church groups

Update your contact information

View your giving statements online
If you have any comments or questions on myFirst, We'd love to hear from you. Fill out the form below to get started.